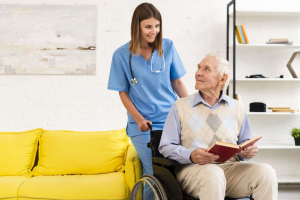 If you're in the process of looking for a Respite Care in New Hope center for the purpose of a much-needed break for you and your elderly loved one, Harborview Doylestown has you both covered! We offer short-term respite services with caretakers who are compassionate, attentive, and highly skilled! We understand that caregiving is a full-time job!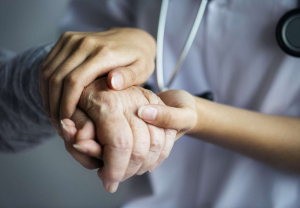 If you are searching for the best Long Term Care in Buckingham, consider Harborview Rehab & Care Center Doylestown. We truly are only miles from Buckingham and our dedicated and professional team of caregivers have the experience and expertise you have been searching for.
Harborview Doylestown Has A Range of Facilities For Long Term Care in Buckingham
We are a full-service care center providing excellence in supportive care to the residents of our local communities. We provide post hospital, subacute and long term in-patient services with care, compassion and comfort.
As you enter Harborview Rehab & Care Center Doylestown you will feel an almost hotel-like atmosphere. Our main lobby, hallways and spacious rooms are all well-lit. Artwork graces the walls, and our goal is for all patients to return home to a more independent lifestyle.
For years we have been providing our healing skills to those who have required assistance in healing. We also have a reception desk 24/7.
When searching for Long Term Care in Buckingham, did you know that here at Harborview Rehab & Care Center Doylestown we offer many different types of care ranging from short term to long-term care?
Safe Senior Living Environment For Clinical Services
Whether you are searching for post-hospital care, rehabilitation post-surgery such as joint replacement, have a chronic condition that requires care or are searching for long term care for a loved one, come here for the best in healing with compassion, care and supportive therapies.
Even our nutritional and dietary departments provide delicious chefs cuisine daily. Each meal is prepared fresh using the finest of ingredients and served by wait staff. Those staying here at Harborview Rehab & Care Center Doylestown can either dine in our restaurant style dining room or in their spacious room.
There are many differences between Long Term Care in Buckingham and here at Harborview Rehab & Care Center. So, before you decide on your location for your rehabilitative care, consider all we have to offer. If you would like to visit our website, you may check our photo gallery for actual photos of our center for care.
Choose Us For Long Term Care In Buckingham
You may also call directly to speak with one of our knowledgeable representatives that can answer any questions you may have regarding admission protocol, room availability, insurance participation or to schedule a tour. Call (215) 345-1452 or send us an email to schedule a tour!
When it comes to requiring long term care, don't choose by location. Choose by the quality of care you or your loved one will be receiving. Choose by the dedication of the staff, the concern for safety and the ability to keep each patient comfortable.
The goals for recovery should be to return the patient home to a more independent lifestyle using all the tools available including nutrition, therapies, social work, stellar team of nurses and certified nursing assistants that can assist with dignity and respect.
When you put all this together, you will see that Harborview Rehab & Care Center Doylestown provides higher quality care than any Long Term Care in Buckingham.
Choose Harborview Rehab & Care Center Doylestown over Long Term Care in Buckingham. You will be happy you did.
Get Professional Respite Care Near New Hope
While you love your family member dearly, it's important that you have some time to relax and be refreshed, knowing that they're in safe, secure, and efficient hands! Allowing yourself this amenity on a regular basis will enable you to handle everything else in your busy life better!
At Harborview Doylestown, ours is a cheerful and charming community that's also close by! We're the ones to turn to, as we have expertise in a variety of care levels!
We provide services for those who have Alzheimer's, blindness, cancer, or diabetes, as well as those who have suffered a stroke or brain injury and those requiring wound care! Our associates can easily help with basic activities, such as bathing, taking medications, getting in and out of bed, and light exercise!
Respite Care In New Hope: What Are The Benefits of Respite Care Programs?
Whether you'd like to set up a plan for a few hours each week or a short-term overnight arrangement, our Respite Care in New Hope services are in place to make your life less complicated! Our facility has an atmosphere that's conducive to warmth, cheerfulness, and positivity!
Our dining area has a fun and intriguing ambiance, and delectable, fresh-cooked meals are prepared by our magnificent chef and associates and served with a smile! While dining, your loved one will have more opportunities to meet new people and form new friendships! If there are any dietary restrictions that we need to adhere to on their behalf, it's no problem at all!
Another plus for your family senior when you choose us for respite is our amazing recreational calendar! It's chock-full of great activities to enjoy, including such selections as Wii games, Bingo, manicures, sing-alongs, arts and crafts, and concerts, just to name a few!
These get-togethers are also wonderful opportunities to meet others with whom your family member will have much in common! Discussions about similar life experiences, hobbies, current events, and favorites movies and music from days gone often take place as everyone gets to know each other better! Good times are waiting to be had at Harborview!
Choose Us For Respite Care In New Hope
If you'd like to find out more about the fantastic Respite Care in New Hope program your family member can partake in at Harborview Doylestown, please feel free to get in touch with us at (215) 345-1452 or send us an email! Our friendly and well-informed associates will be able to provide you with any information that you need!
Furthermore, you may wish to take the next step and set up an appointment to come by to meet us and take a tour. This way, you can see for yourself why you shouldn't wait another day to get respite care for your loved one at our incredible facility!
SCHEDULE A TOUR
Use the form below or call 215-345-1452 to schedule a tour at Harborview Rehab & Care at Doylestown to meet our caring staff and see all that we have to offer.
Harborview Rehab & Care
432 Maple Avenue
Doylestown, PA 18901
215-345-1452
215-345-6816