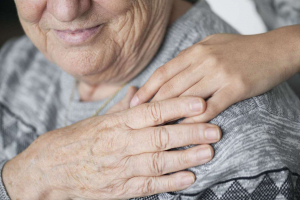 When searching for the best Short Term Care in Buckingham establishment, Harborview Rehab & Care Center Doylestown offers outstanding services! With a staff of true professionals that work with superior standards and a high outcome in mind, we have everything that's needed for an optimal level of healing!
The atmosphere offered is one that's loaded with positivity, encouragement, and tranquility, all of which are conducive to achieving great results! In turn, these will further enhance and build up the patient's mobility, independence, and self-esteem as they implement the different step of the program that we'll devise!
Short Term Care in Buckingham for Seniors
At Harborview Doylestown, we have everything in place for your loved one to experience as complete a recovery as possible! We're experts when it comes to providing excellent aftercare following their recent surgery, injury, illness, or other medical condition!
We'll begin by reading over the patient's medical history and performing a thorough evaluation of their physical and mental levels of health in order to determine those areas that require more support and assistance towards the healing process.
Based on these findings, our medical team will then put into place a customized plan for the purpose of enabling the very best outcomes to transpire! This plan will include both short and long-term goals to achieve, and our staff will work alongside them and cheer them on as they implement the program!
Amenities Found At Harborview Doylestown Rehab Care Center
When it comes to accommodations for our Short Term Care in Buckingham patients, Harborview Doylestown comes through once again!
We offer both private and semi-private suites that each include their own large, easy-to-access bathroom. The setting is serene, pleasant, and inviting, providing the perfect backdrop for watching TV, reading, listening to music, working on a much-loved craft, or just relaxing and resting! In addition, we offer three nutritious and tasty meals each day, and they can easily be customized for those who have dietary restrictions, no problem!
Buckingham Short Term Care Services
It's also good to know that we render care 24/7, so you can have peace of mind knowing that your family member is receiving attentive, highly skilled care consistently throughout their time with us! Our welcoming and well-informed representatives will help guide you through the process and answer any questions on our provided services that you may have.
For those times when our patients are looking for opportunities to socialize, our monthly recreation calendar is full of fun activities to partake in with others! Some of our selections include book club, sing-alongs, coffee socials, movies, parties, and games, such as Bingo!
These happenings give our patients and residents many chances to meet new people with whom they'll have much in common! Together, they can discuss similar life experiences, favorite music and sporting events, as well as great memories from days gone by! What a pleasant way to spend one's time while healing!
Short Term Care in Buckingham by Harborview Doylestown Rehab & Care Center
If you'd like to know more about how Harborview Doylestown can significantly impact your family member's Short Term Care in Buckingham recovery after their surgery, injury, or illness, please feel free to call us at (215) 345-1452! Our associates will gladly answer any questions you have and even set up an appointment for you and your family to come by to meet us and take a tour!
We hope to hear from you soon!
Why Choose Harborview Rehabilitation Care Center?
The mission of Harborview Rehabilitation and Care Center Doylestown is to provide high quality care to the local and extended community with excellence, compassion, and competence.
We can answer questions you may have, offer info on insurance participation and help you to schedule an appointment. Harborview Rehabilitation and Care Center participates in Medicaid programs as well.
You can also schedule a tour of our full facilities, and meet our staff and residents, via our website or via phone!
Our Onsite Services Include:
Bed Side Dialysis

Tracheotomy

Respiratory Rehabilitation
IV Antibiotic Therapy

Joint Replacement

Restorative Nursing
Prosthetic Training

Cardiac Hospice Care

Bladder/Bowel Retraining
SCHEDULE A TOUR
Use the form below or call 215-345-1452 to schedule a tour at Harborview Rehab & Care at Doylestown to meet our caring staff and see all that we have to offer.
Harborview Rehab & Care
432 Maple Avenue
Doylestown, PA 18901
215-345-1452
215-345-6816