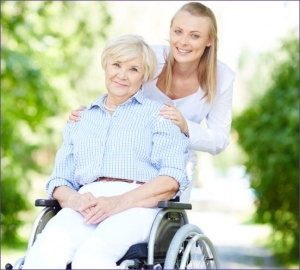 Harborview Rehab & Care Center is located at 432 Maple Avenue in Doylestown, PA has been servicing the area for Short Term Care Philadelphia since March of 1970 and is dedicated to providing a warm, safe, and caring atmosphere for those seeking skilled nursing care in the form of short-term rehabilitation. We offer post hospital, subacute, in-patient services.
With 120 beds that are certified for Medicaid and or Medicare, we are sure that you will find exactly what you need for your Short Term Care Philadelphia.
Our care team includes the finest individuals for the following specialties; Licensed Nurses, Certified Nursing Assistants, Physical, Occupational and Speech Therapists, Clinical Social Worker, Wound Care Nurse, Wound Care Physician, Dietician, Psychology Consultant, and Psychiatrist Consultant.
Please note that if you do not see the Specialist you require during your short term care Philadelphia give us a call, we will gladly go over the full lists of Specialist we have employed here at Harborview Rehab and Care Center. Our phone number is (215) 345-1452.
Our Services Provide The Best Nursing Care Around Philadelphia, Pennsylvania
We have selected our team members not just based off of their Résumé, but also their personalities which leave's us with having staff members that are professionals and kind hearted and treat each resident as if they were a member of their own family. You can not have a successful recovery if you are miserable and feel it.
Our mission for your Short Term Care Philadelphia is to make you as relaxed and comfortable as possible so you can get back to your daily routine without issues. We trust our method of treatments and the time spent with each patient is crucial. To learn more about our fantastic staff and physician's click on the "Meet the Team" on the website. This way you will be able to learn who you will be interacting with during your stay with us.
Harborview Rehab Specializes In Short-term Care Services In Philadelphia, PA
We at Harborview Rehab and Care Center in Doylestown PA, are proud of the work we have accomplished with our ratings with successful Short Term Care. Whether you or your loved one stay with us short term we will welcome you with open arms. Our facility is located near shopping centers, which makes travel time to the stores shorter.
In order to allow our resident's to have as much social interaction as they can, we provide you with daily activities that will help the neurological aspect of healing. We have BINGO, movie night, crafts, and more. Take a look at our Monthly Activities Calendar to see the schedule.
Get Short Term Care At Harborview Rehab Facilities Near Pennsylvania
If you are interested in what we have to offer and would like to learn more about our Short Term Care Philadelphia do not waste another minute but not getting on the phone and contacting us. Our welcoming and well-informed representatives will help guide you through the process and answer any questions on our provided services that you may have.
Our phone number is (215) 345-1452. While you are on phone with one of our well educated team members, discuss with them scheduling a tour of Harborview Rehab and Care Center. This way you will be able to experience first hand the grounds and see what the rooms look like along with meeting those that are with us right now.
If you're searching for Skilled Nursing Care Doylestown, choose Harborview Rehab for the most comprehensive and compassionate care.
Why Choose Harborview Rehabilitation Care Center?
The mission of Harborview Rehabilitation and Care Center Doylestown is to provide high quality care to the local and extended community with excellence, compassion, and competence.
We can answer questions you may have, offer info on insurance participation and help you to schedule an appointment. Harborview Rehabilitation and Care Center participates in Medicaid programs as well.
You can also schedule a tour of our full facilities, and meet our staff and residents, via our website or via phone!
Our Onsite Services Include:
Bed Side Dialysis

Tracheotomy

Respiratory Rehabilitation
IV Antibiotic Therapy

Joint Replacement

Restorative Nursing
Prosthetic Training

Cardiac Hospice Care

Bladder/Bowel Retraining
SCHEDULE A TOUR
Use the form below or call 215-345-1452 to schedule a tour at Harborview Rehab & Care at Doylestown to meet our caring staff and see all that we have to offer.
Harborview Rehab & Care
432 Maple Avenue
Doylestown, PA 18901
215-345-1452
215-345-6816